Product Details:
| | |
| --- | --- |
| Material | Steel / Stainless Steel, Aluminum |
| Surface Treatment | Galvanised, Coated, Color Coated |
| Technique | Cold Rolled |
| Features | Water Proof, Corrosion Resistant, Durable Coating |
Technical Details:
The box-shaped panels which can be attached to an 84mm carrier with ease. The 84mm wide panels feature a 24mm wide flange. The shuts off the 16mm joint between the panels (module 100mm and 200mm).
The 12.5mm deep joint gives a linear direction to the ceiling, at the same time being closed from the plenum.
These panels, which are stove enameled aluminum panels, are recyclable, lightweight but strong. These panels can be made to fit any requirement.
The length of these panels can go up to 5000mm. Panels can be attached by using panel splice.
The panel carrier is black or white & is made of 0.5mm thick stove enameled steel.
The carrier is provided with prongs to accommodate the panels in a module of 100mm.
The standard length of these carriers is 5000mm and is connected by using the carrier splice.
New Age's standard range of edge profiles can be used as perimeters.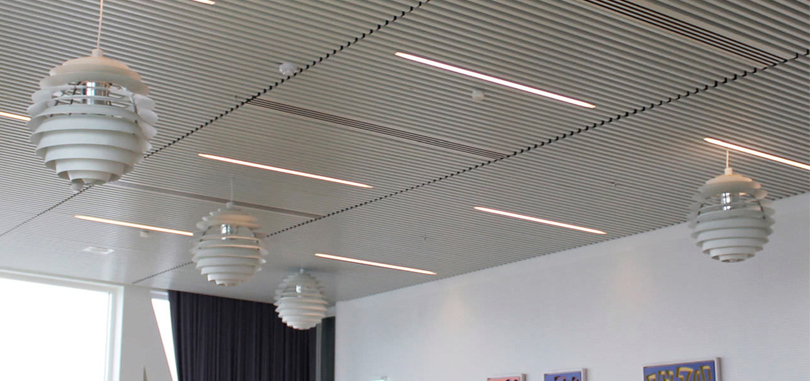 Specifications:
Panel length made to measure up to 5000mm. This allows swift installation, minimizing the need for joining the panels.
A simple hook-shaped tool can be used to remove and replace the panels. This allows easy and full access to the plenum.
Perforated panels with a non-woven textile membrane bonded to the inside face are used to achieve optimal acoustical control for meeting rooms, offices etc.
Together with aluminum carriers, aluminum panels can be used to create exterior ceilings.
The joint- flange can be executed with a rectangular perforation for ventilation purposes.
This ceiling is ideal for places that stress on hygiene because of the absence of dust retention and ease of cleaning.